Specialty Wood Products
Our designers are waiting to create a solution to your specialty wood products needs.  Whether you're looking for Crates, Shipping Cradles, Knock-Down Crates, Medical Shipping Containers, Export Certified Packaging, Vibratory and Shock-Resistant Packaging, Pallets and Skids, Furniture Parts, Cut to Size Components or containers for electronics, medical or trade show packaging, we can meet your needs.

Electronics Packaging
Shipping Crates
Shipping Cradles
Automated Storage & Retrieval Systems
Knock-Down Crates
Medical Shipping Containers
Export Certified Packaging
Vibratory and Shock-Resistant Packaging
Pallets and Skids
Cut-To-Size Components
Furniture Parts
Storage Containers
Convention & Trade Show Packaging
Wood/Plywood Chests
Plywood Fabrication
Boxes and Boxing
Government Spec Packaging
Mil-Spec Packaging
Lockable Cases
Custom Cases and Packaging
Export Shipping & Crating
Pallets and Palletizing
Ocean Cargo Packaging
Nestable Packaging
Bulk and Cargo Packaging
Custom pallet for an Automated Storage and Retrieval System
This customer needed pallets built to exacting standards for use in their Automated Storage and Retrieval System. The answer is an all Engineered Wood pallet providing the ideal solution to the issues of robotic material handling. Rounded corners ease the transitions on conveyor systems. CNC machining and precision sawing provide parts that are perfectly square and dimensionally consistent. We have provided several thousand units since 2002 – through multiple expansions of our facility.. No pallet snags in this system!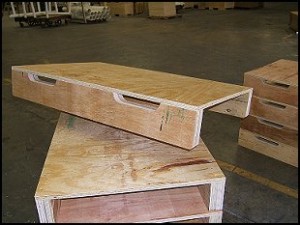 Crate for large truck shafts
This customer had an emergency and needed to ship several hundred eight foot shafts prior to receiving thermoformed trays. We were notified on Thursday of the need to ship parts the following Monday. Several constraints regarding how the parts were manufactured and how they would have to be loaded and unloaded were discussed. On Friday we received one part with which to design. We completed the design and CNC programs on Friday and manufactured six sets of crating on Saturday. The crates were ready to ship Monday afternoon. Several years later, the crates are still in use.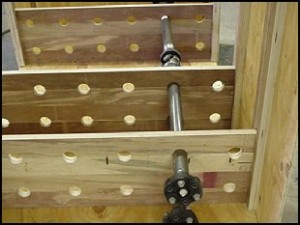 Special fixture for foam fabrication
This customer needed a more efficient method of cutting extruded foam from planks into strips. The previous method used a contour saw. Poor accuracy and low productivity drove the customer to request a faster method. We designed fixtures for cutting the foam into strips and another for cutting special notches. Productivity soared, deadlines were met and thousands of parts were produced in a fraction of the time previously required.